Social Media has changed the way we communicate, connect and do business. LinkedIn has become the social channel of choice for the business community, and for good reason. It allows you to network with business prospects, potential job candidates, and generate quality leads.
Creating a LinkedIn company page can help you to engage with potential buyers of your products or services. It also establishes the public image of your business and brand on a global scale and can go a long way towards building your brand as reputable and trustworthy.
80 percent of B2B leads generated on social media
come from LinkedIn. – Forbes
If you don't have a LinkedIn company page, here are a few key reasons why you should:
• Entertain, Educate and Inform with Unique Content – The best way to build your brand is to create and share informative and relevant content with your audience. Unique content can help you to engage your readers one-on-one, and establish thought leadership in your industry. Keep it fresh! Use different formats like blog posts, webinars, podcasts, or videos to reach your target audience. Keep it relevant and don't be afraid to ask for comments, shares and likes. Over 2 million posts, articles and videos are published on LinkedIn every day!
• Introduce New Products or Services  – The top five reasons people follow a brand on social media are promotions or discounts, customer service, entertaining content, the ability to engage directly with a brand, and new product information. LinkedIn is the perfect platform for introducing new products or services your business is offering. Post explainer videos, and show how your company meets the needs of your audience.
• Establish Your Competitive Difference – Use LinkedIn to show how your business is different and why customers should choose you. Post company news, share information about your corporate culture, philosophy and vision. Use infographics, photos, videos and artwork to show customers how your company thinks and acts. 91 percent of executives rate LinkedIn as their first choice for professionally relevant content.
• Find New Hires – LinkedIn is the perfect place to find new hires. Profiles can offer you valuable information about people seeking to work at your company including their accomplishments, ability and passion. Prospects will seek you out and you can easily see if they're a good fit for your company.
A LinkedIn company page can help you build your brand, find new hires, and generate quality leads. It's a great way to build trust in your brand. It's also the perfect way to show potential customers who you are, what you do, and why they should do business with you. A LinkedIn company page is a cost-effective way to grow your business!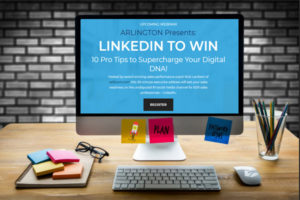 Want to improve your effectiveness on LinkedIn? Check out our upcoming LinkedIn to Win webinar on June 13th! Hosted by award-winning sales performance coach Rick Lambert of selltowin.com, this 30-minute executive address will test your sales readiness on LinkedIn, the undisputed #1 social media channel for B2B sales professionals. Click here to learn more!