Social distancing has pushed everyone further apart – at least physically, for the near future. Rather than meet prospects and customers in their offices, top performing Copier Dealers and Managed Print Providers realize they need to digitally transform their sales model. That transformation includes digital communication between the seller and buyer – which is already happening on LinkedIn, because that's where the customers and prospects are.
Here are 5 reasons Imaging Dealers are getting active on LinkedIn.
1. YOUR BUYERS ARE THERE
By every measure, LinkedIn is the #1 social media network to invest your marketing efforts in because it's filled with the businesspeople you want to sell to. Unlike other social media channels, LinkedIn separates itself from other social networks because it primarily attracts B2B executives due to the business tone of its content.
2. LEAD GENERATION
Being top of mind at a point of need is the easiest way to generate new leads. In layman terms, when the buyer is ready to buy, they think of your company, which boosts your consideration rates and generates sales leads. This recent study by HubSpot shows how LinkedIn holds a dominant position for lead generation.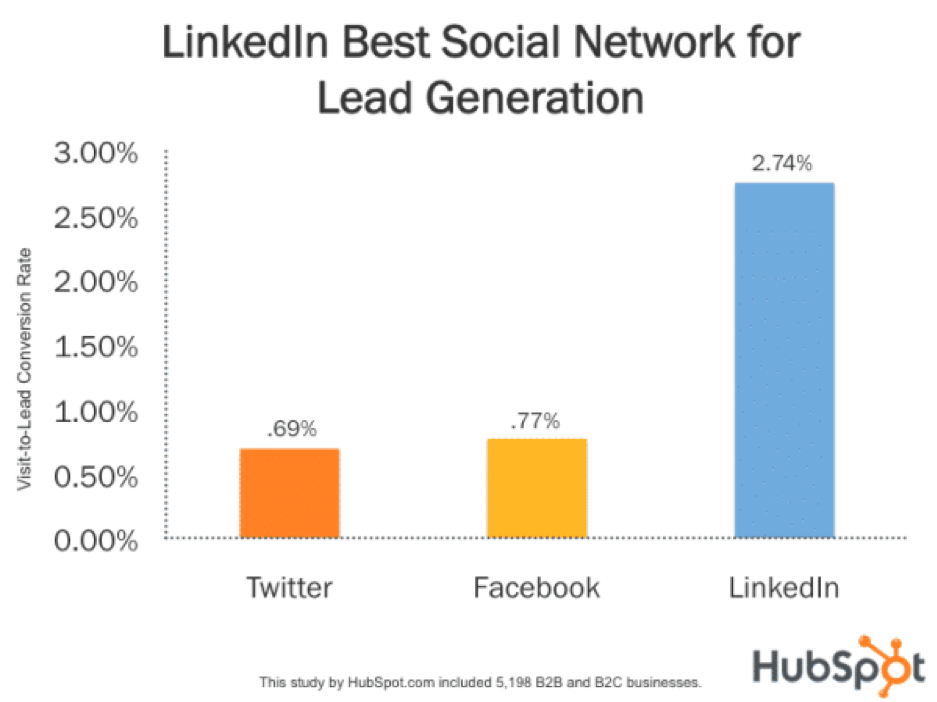 3. STAY CONNECTED WITH CUSTOMERS
By connecting with your customers, you'll automatically see what they're posting, and they'll be able to see what you're posting. The added benefit of being connected occurs when a contact moves from one company to another – you'll receive a notification when they update their LinkedIn profile at their new job. This allows you to leverage your relationship with that person faster because you'll know right away when they've moved. This same concept applies to promotions within a company. You'll be notified when someone that likes you is elevated to a new role, perhaps with more authority. Either way, you can keep tabs on people with automation.
49% of B2B decision makers say they look at the seller's LinkedIn profile as part of their buying process.
– LinkedIn
4. AVOID PROSPECTING SCREENS
Unlike the phone or email, LinkedIn provides unfiltered access to executives at all levels of an organization. This allows you to contact people directly without a screen in the middle. You can also see who you may know that is connected with a person you want to meet with, which can greatly improve your ability to connect with the people you want by going direct, or through a common contact. Avoiding screens will help sales reps engage with more senior level decision makers to start, and advance, deals quicker than with mid-level managers afraid to make decisions in a tight economy.
5. YOUR COMPETITORS ARE THERE
Why give your competition an open highway to connect and communicate with your customers? If you check, chances are that each of your competitors, and their sales reps, are on LinkedIn. The key is to make sure your profile looks better, and you are posting content more frequently to keep current and future customers thinking of you and not your competitors. LinkedIn can also let you see who your competitors are connected with, so you'll know if your current customers have been approached by someone other than you.
There are many more reasons to get your business and your people more active on LinkedIn, but these five reasons should be enough to make you rethink your social media strategy.
Ask your ARLINGTON representative about helping you accelerate your success on LinkedIn.
We can help with our LinkedIn Bootcamp created for Imaging Dealers like you.